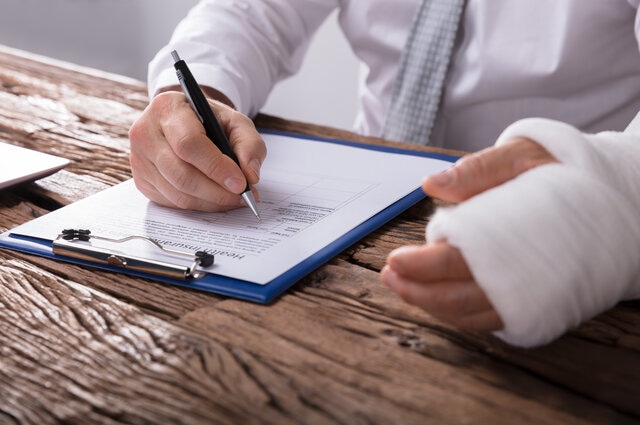 Who Pays Medical Bills After a Workplace Injury?
Sadly, an individual who is injured on the job faces not only health issues but also financial ones. So much uncertainty abounds at a time like this. How long will I be off work? Who is going to pay for all medical care? Will I ever be able to fully function as I did before the accident?
The many questions in the mind of the injured worker deserve to be answered, and some peace of mind needs to return. It is unfair that a diligent worker gets injured on the job through someone else's negligence and now faces an unknown future because of it.
---
After a Workplace Injury
After a workplace injury takes place, the employer needs to begin an investigation immediately. Details of the accident and witness accounts need to be collected to be given to the company's insurance provider. Labor laws are in place requiring employers to notify insurers of employee injuries no matter how minor they may seem.
In no way do the above actions mean that the employer is admitting any fault. Reporting the accident to the insurance company simply means that the business is making a simple statement that there was an injury, and there will be a claim.
The boss may ask if the injury actually occurred in a work-related accident. This questioning could arise, for example, if an employee who delivers packages had stopped at a coffee shop for lunch, and the fall happened there. In this situation, there could be a company objection to the injury being connected with work.
There are stipulations that vary by state giving deadlines for filing paperwork regarding an injury at work. Filing in a timely manner signals the start of a claim and gets the ball rolling for the company's insurer to begin paying benefits to the injured worker. Once the employer reports the accident to the insurer, then the insurance company must report the accident to the Occupational Health and Safety Administration within 24 hours.
The following steps will help an injured worker in obtaining necessary medical benefits:
Immediately report any work-related illness or injury to the employer

Check with the employer or HR department for designated medical providers acceptable by the workers' compensation insurance plan
Workers' Compensation Coverage
The workers' compensation program was created to help compensate injured workers for lost wages and medical costs. Individuals who are involved in a workplace accident resulting in injury or who develop an occupational disease like asbestosis can claim benefits. Employees are covered by workers' compensation on the first day of work.
Not every job has workers' compensation coverage. The following categories typically do not:
Railroad employees, federal employees, longshoremen

Sole proprietors, partners, business owners

Independent contractors

Volunteers

Taxi drivers

Some agricultural workers

Intermittent workers who work very little

Part-time domestic workers like nannies and maids

Part-time gardeners or home maintenance workers performing specific work
Injuries Covered by Workers' Compensation
The value of workers' compensation coverage may go untold until the moment an employee gets injured on the job and finds out directly. There are a few exceptions, but in most states, work-related accidents are covered. Sometimes, however, gaining access to all of the benefits can become a challenge. Of all the multiple types of work-related injuries, the following are most common:
Slips and falls

Industrial accidents

Falling objects

Repetitive motion injuries

Overexertion

Vehicle accidents

Machine entanglements
If it is determined by the insurance company that an injured worker was using alcohol or drugs when the accident occurred, workers' compensation benefits could be lowered. Likewise, if the employee fails to obey a written, reasonable and posted safety ordinance or willfully chooses to forego using provided safety equipment, the benefits may be reduced.
Options Exist Outside Workers' Compensation
While much-needed financial support and medical services may be made available through workers' compensation, this is not the only option available for every injured worker. In some circumstances, an individual may want to speak with a qualified attorney about the option of filing a civil injury lawsuit. Of course, circumstances and situations vary by case, but an injured worker could be able to file a claim against:
The general contractor and property owner of a construction site

A third-party supervisor or contractor

The negligent property owner (for premises liability)

A negligent additional third party

The maker of a defective product (for product liability)
In the case of claims against a third party, many times these are filed in response to construction site accidents where the owner of the property and the general contractor are both responsible for the injury. Additionally, premises liability lawsuits are filed when property owners created, caused, or did not properly address a potentially hazardous condition on the property that they knew about or should have, yet did nothing to correct.
A civil lawsuit would allow injured employees and their family members to recover damages in a much broader scope than anything provided through workers' compensation. Civil lawsuits allow victims to seek economic damages for loss of wages, medical expenses, and loss of future earnings. In addition, non-economic damages such as pain and suffering can also be requested. It cannot be stressed enough that a worker who was injured on the job should at least speak with a knowledgeable attorney to determine all available options for seeking full compensation.            
Financial Help Through Settlement Funding
Companies like The Legal Funding Group provide financial assistance to plaintiffs waiting on a settlement payout but need money now in order to pay their bills. This is known as legal funding and plaintiffs can easily apply online. There is no credit check or review of your past financial history. 
The money being given to plaintiffs does not come from the court or the defendant. It comes directly from a third-party company, or in this case The Legal Funding Group. Documentation and other information regarding the case will be required to get approval for funds.
If the legal case is won, the amount of money that has been approved, plus the agreed-upon interest amount, will come out of the awarded funds and go to the third-party company that handled the settlement funding. If, on the other hand, the case is not settled in favor of the plaintiff, there is no money owed.
Apply For Legal Funding Today
If you have been injured at work and filed a workplace injury lawsuit, you are most likely waiting for a settlement to be reached or processed. Call The Legal Funding Group today to apply for settlement funding or fill out an online application.